March 20, 2015

BOSTON, MA -- On what was the first official day of spring, a collaboration of leading organizations representing all segments of the state's golf industry celebrated "Massachusetts Golf Day" at the State Capitol.
Industry leaders met on Friday with members of the House of Representatives and Senate to discuss the industry's economic impact, growth of youth development programs and charitable contributions.
A recent Golf 20/20 economic report reported golf's direct economic impact in Massachusetts was $2.7 billion in 2012. The state's golf industry supports 25,500 jobs and $796.8 million in wage income. Massachusetts is home to more than 370 golf courses with more than 70% open for public play.
"This is an industry that is very strong. A lot of people discount the Northeast for having good golf, but here in Massachusetts it is a long-time tradition," said Massachusetts Lieutenant Governor Karyn Polito, who addressed attendees in the Nurses Hall. "[It generates] 25,000 jobs and is a multi-billion dollar industry. That is all very impactful. The part that I love most about it is that it spreads across our Commonwealth in every region of our state."
Massachusetts Golf Day featured attendees from leading industry organizations - Deutsche Bank Championship, Francis Ouimet Scholarship Fund, Golf Course Superintendent's Association of New England, Massachusetts Golf Association, New England Club Managers Association, New England Golf Association, New England Golf Course Owners Association, New England PGA, and the Women's Golf Association of Massachusetts.
"We are here today to show that golf is much more than a game, a set of clubs or a 9 or 18 hole golf course," said Jesse Menachem, the executive director of the Massachusetts Golf Association. "We are a significant industry, a major contributor to the American economy and to the economic vitality of the Commonwealth at the state and local levels. Beyond the sport and recreational value, golf forms a nucleus of a major industry cluster that creates job opportunities, commerce, economic development and tax revenues for communities throughout."
The economic impact study, entitled The Massachusetts Golf Economy - Full Report, also reported that golf generates roughly $74.3 million in charitable giving and continues to be the home of some notable golf equipment manufacturers that support the state's exports, such as The Acushnet Company (parent company of the Titleist brand of golf equipment and apparel) and Callaway Golf, among many others.
During Massachusetts Golf Day, an interactive swing zone was set up in the Grand Staircase and featured PGA Professionals from some of the nearly 50 municipally-owned golf facilities in the state.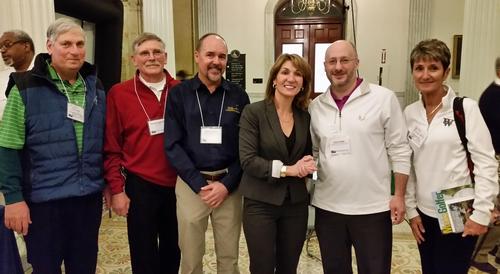 In addition, House and Senate members as well as their staff members enjoyed putting and chipping lessons and had the opportunity for a picture with the Deutsche Bank Championship's Wedgwood Trophy.
With today being the first official day of spring, we would like to forget about the 108 inches of snow that has fallen this winter and focus on the 24 million rounds of golf that were played within 150 miles of this State House in 2014," said Becky Blaeser from the Alliance of Massachusetts Golf Organizations (AMGO). "The individuals in this room are the people who mow and tend the grass, teach your children, operate businesses that employ thousands of workers, raise money for life-saving charities and manufacture a golfer's equipment. We are Massachusetts golf."
To learn more about how big the Massachusetts economy swings for golf, visit www.massgolfeconomy.