Thank you for attending AM '22!
REGISTER by November 30th
Register Now For the
The Engagement & Analytics Workshop
Taking place on Monday, December 5 from 3:00- 4:30pm
and the
NEGCOA Annual Meeting
Taking place on Tuesday, December 6 from 8:30- 3:00pm
Brookmeadow CC, Canton, MA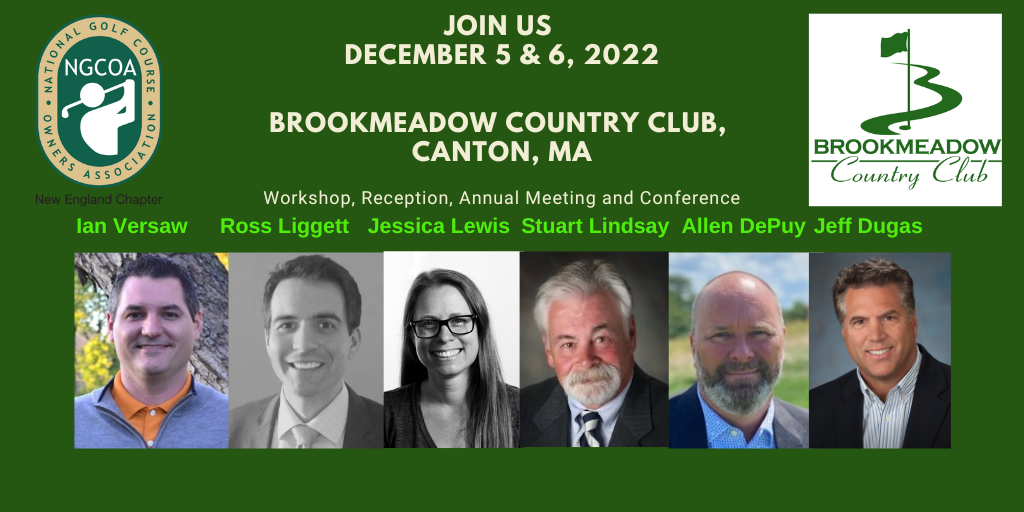 We have a great lineup of speakers!
It's time for us to connect. Hopefully, you have had a busy golf season. Some of you are now closed for the winter. And it's time to begin reviewing this year and moving forward with the 2023 season. With that in mind we have 6 great speakers coming, a few having recently presented at the Golf Inc Summit at Kiawah.

So plan to attend and plan to take home some great information for you to put into place over the off-season. This event is open to you, your key staff, GM, Pro, Club President, Marketing and Event staff, your business partner, interested family. And keep in mind, if your club is an NEGCOA member- then your staff, family, and guests are considered members.

Join us on Monday from 3:00pm to 4:30 for a fantastic workshop anchored by -- Ian Versaw (Club Prophet Systems). and Joining Ian, we will have Ross Liggett from Metolius Golf and Jessica Lewis from Gallus Golf. They will be presenting:

Using Digital Engagement & Analytics to Drive Revenue - Do you think you have maxed our on your revenue due to a full tee sheet in 2022? In this session you will learn how to get more eyeballs on your course marketing, how to analyze this information, and how you can bring in even more revenue as a result.
Cost for the workshop (includes the Cocktails and Connections reception):
NEGCOA members and their staff: $30pp (free if registered for Day 2)
Non-members: $50pp
Vendors: $60pp
Following the workshop, from 4:30-7:30 join us for Cocktails and Connections. A great chance to chat with all of our presenters, other attendees, friends, and vendors.
On Tuesday, our Annual Meeting agenda is as follows:
8:30-9:30
Doors Open: Check in & Networking Breakfast
9:30-10:30
Annual Meeting including Elections and Awards
10:30-11:45
Presenter: Stuart Lindsay, Edgehill Golf Advisors and contributor to Pellucid, Corp.
"State of the Industry- New Technology and How are You Doing?"
11:45-12:45
Networking Luncheon
1:00-2:00
Presenters: Allen DePuy, Colliers International & Jeffrey Dugas, Leisure Appraisal
"Golf Course Valuation in a Post Covid World"
2:00-2:30
Meeting Wrap Up - Open discussion
Cost for the Annual Meeting/Conference:
NEGCOA members and their staff: $30pp
Non-members: $50pp
Vendors: $60pp

This event is a great opportunity for you to meet with fellow owners, operators, vendors, and allied organizations as we turn our attention to the off-season and the upcoming 2023 season. This event is open to owners, operators, general managers, golf professionals, superintendents, marketing staff, social media staff, family, and friends.


Lodging: If you need lodging there are 2 hotels within 10 minutes of Brookmeadow CC -- both located on Route 1. Fairfield Inn - Boston/Sharon (Marriott) is located just south of the club and Hampton Inn Boston/Norwood (Hilton) is located just north of the club.

Vendors/Sponsors -- opportunities are available for you to be involved in this event. Please click on the link to the Vendor/Sponsor form below.


Registration can be done BY November 30 (coming up quickly) by clicking either button below:




Print Registration Form (must be received by 11/30)




Register Online (via Eventbrite) with a Credit Card


Sponsor/Vendor Opportunities