2023 Annual Meeting & Workshop
REGISTER by EOD on November 28th
Food & Beverage Workshop
Monday, December 4 from 3:00- 5:00pm
and the
NEGCOA Annual Meeting & Conference
Tuesday, December 5 from 8:00- 2:30pm
Renaissance Golf Club, Haverhill, MA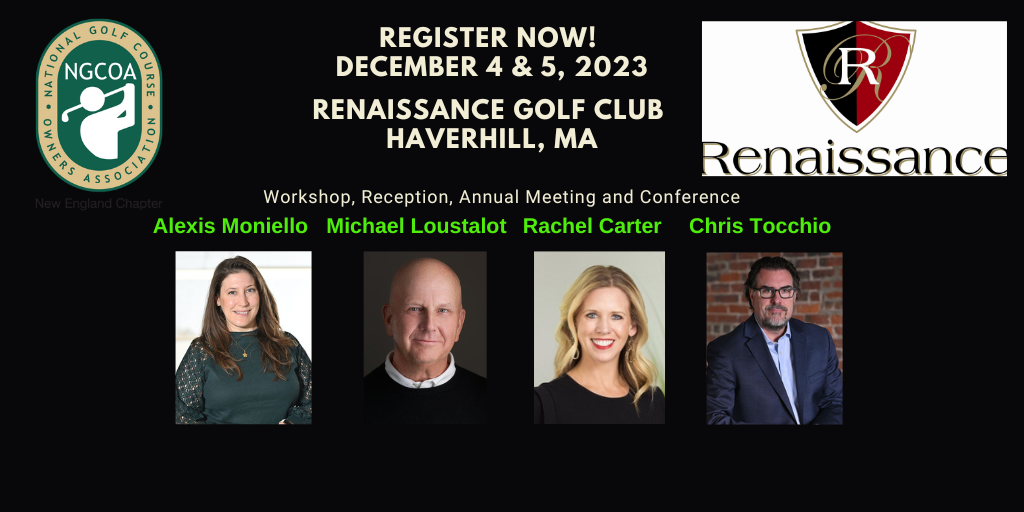 We have a great lineup of speakers!
It's time for us to connect. Hopefully, you have had a busy golf season. Some of you are now closed for the winter. And it's time to begin reviewing this year and moving forward with the 2024 season.

So plan to attend and plan to take home some great information for you to put into place over the off-season. This event is open to you, your key staff, GM, Pro, Club President, Marketing and Event staff, your business partner, interested family. And keep in mind, if your club is an NEGCOA member- then your staff, family, and guests are considered members.


MONDAY Food and Beverage WORKSHOP
Time: 3:00-5:00pm (check-in begins at 2:30)


Navigating F&B Excellence: Mapping the Experience with Alexis Moniello, Real Food Hospitality, Strategy, and Design
This hands-on workshop is tailored for hospitality professionals keen on mastering the art and science of end-to-end experience journey mapping. In this session, uncover the secrets to creating intentional, authentic and memorable dining experiences that resonate long after the meal. You'll walk away with a simple, yet powerful tool to pinpoint areas of friction, discover opportunities to exceed expectations, and improve overall member and guest satisfaction, all while creating an actionable training guide for your management and front-line staff.
Cocktails and Connections
Time: 5:00-8:00pm
Our reception will follow the workshop with lots of great food and a chance to meet up with friends, speakers, vendors and sponsors.
Cost for the workshop (includes the Cocktails and Connections reception):
NEGCOA members and their staff: $30pp (free if registered for Day 2)
Non-members: $50pp
Vendors: $60pp
Tuesday Annual Meeting Agenda
8:00-9:00
Doors Open: Check in & Networking Breakfast -Sponsored by Sodco
9:00-9:45
Annual Meeting including Elections and Awards
9:50-10:45
Presenter: Mike Loustalot - Sagacity Golf
"Maximizing Green Fee Revenue: Strategic Insights for Public Golf Courses" - Unlock the potential of your public golf course with our expert-led session on green fee revenue management. Learn innovative strategies to enhance profitability, optimize pricing models, and attract more golfers, all tailored to the unique challenges of public courses. Join us to discover actionable insights and proven techniques that will elevate your course's financial performance and competitive edge.
10:45-11:30
Panel Presentation: Rachel Carter - Sr. Dir Membership, NGCOA
"2023 Pulse Report: New Customer Trends" - This panel, moderated by Rachel Carter, will cover the new customer trends at your golf course, the current golfer mindset, and more.
11:30-12:30
Presenter: Chris Tocchio - Real Food Hospitality, Strategy, & Design
Your Guide to F&B: Q&A with Industry Expert - Tailored for golf industry professionals, this session will provide valuable insights into the dynamic world of food and beverage operations. Leveraging his experience inside and outside the golf realm, Chris Tocchio of RealFood Hospitality, Strategy & Design guarantees an exploration into strategies and best practices that facilitate consistent, memorable and financially successful dining operations.

In addition to sharing his approach to common challenges, Chris will provide on-the-spot consultation to address your most pressing F&B questions. Join us for an informative and interactive session that will educate…and elevate your club's F&B.

12:00-1:30
Networking Lunch/Time with Vendors
1:30-2:00
Meeting Wrap Up - Final Thoughts
Newsflash-- PDR credits will be available for the PGA pro's who attend.
Cost for the Annual Meeting/Conference:
NEGCOA members and their staff: $30pp
Non-members: $50pp
Vendors: $60pp

Registration:
Can be done BY November 29 (coming up quickly) by clicking either link below:
Print Registration Form (must be received by 11/29)
Register Online (via Eventbrite) with a Credit Card
Lodging:
There are 2 hotels within 15 minutes of Renaissance.
Fairfield Inn - Amesbury (Marriott)

Hampton Inn Amesbury (Hilton).


Due to a lack of heat - Lodging at Renaissance will not be available. We regret this inconvenience. So please consider booking at one of the hotels listed above.
Vendors/Sponsors
Opportunities are available for you to be involved in this event. Please click on the link to the Vendor/Sponsor form below.


Sponsor/Vendor Opportunities (must be received by 11/28)