2020 Virtual Annual Conference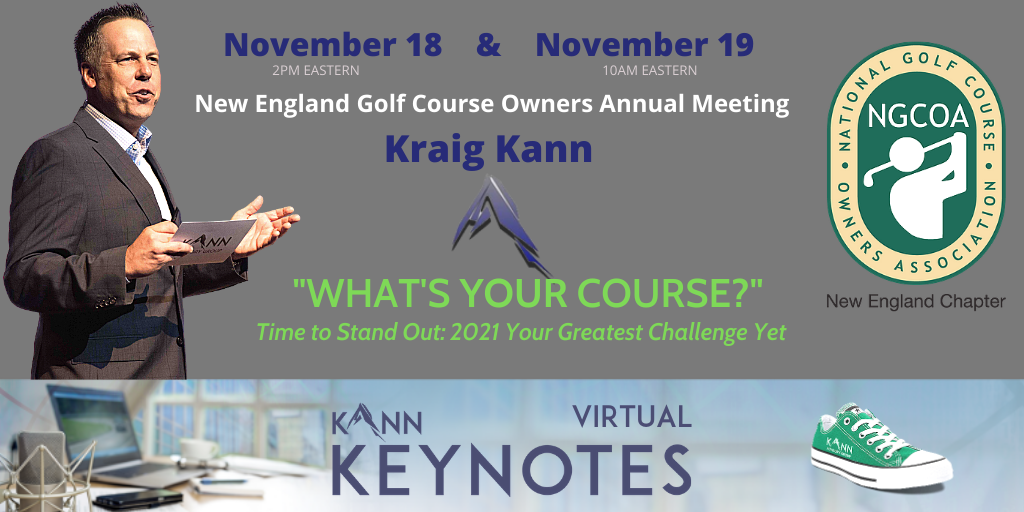 Announcing the First Ever
NEGCOA Virtual Annual Business Conference
 Wednesday, November 18 from 1:00p-6:00pm
Thursday, November 19 from 9:00a-1:30p
Location: Anywhere you happen to be!!!
2020 has been a roller coaster of a year. A year of disconnection. This is your opportunity to connect with those in our industry from across the 6 New England states. Whether you are a resort course, private club, family owned, 9 hole mom and pop, or a muni -- you have all been hit one way or another this year. But there have also been some amazing silver linings.
It has been an opportunity to rethink how we do everything from set up our course, to process reservations and payments to traffic flow around the property. Join us over the course of one afternoon and morning to hear from our speakers and to chat with fellow owners and operators.
So plan to attend and plan to take home some great information for you to put into place over the off-season. This event is open to you, your key staff, GM, Pro, Superintendent, Marketing and Event staff, your business partner, interested family. And keep in mind, if your club is an NEGCOA member- then your staff, family, and guests are considered members.
We will end our day on Wednesday with Cocktails and Connections. A great chance to chat with all of our presenters, other attendees, friends, and vendors. This will be fast paced session of breakout rooms where you will find yourself in small groups for easy conversation. Mystery guests are in the works -- so who knows who you will find in your breakout room!
The overall agenda is as follows:
1:00-1:50
Doors Open: Check out our conference platform, visit virtual vendor booths, get yourself ready to roll
2:00-3:15

Featured Keynote: Kraig Kann, CEO & Founder, Kann Advisory Group
"Stand Out- Be Golf's New Influencer"

In the first session, Kraig delivers on the topic of being an influencer within your own club while also becoming more well known in the golf industry itself. Educational, interactive and inspiring, you'll learn ways you can make a bigger impact, get more people to take notice of both you and your course, and find new ways to promote your golf course as a hub for entertainment, fellowship and local leaders. Questions will be included and there will be spots within the timeframe for interactive discussion.

3:15-3:30
Mini-Break - stay in the room and connect with other attendees, or visit the virtual vendor booths
3:30-4:30
Silver Linings -- What we learned in 2020, What went well, What went badly, What we will continue in 2021

4:45-6:00
Cocktail Networking breakouts - Uncap a beverage and get ready for a wild ride of mini breakout sessions with other attendees, speakers, and sponsors. This session will be fast paced so buckle in and who knows who you will be in a room with....
On Thursday, our Annual Meeting agenda is as follows:
8:00-9:00
Doors Open: Check out our conference platform, visit virtual vendor booths, get yourself ready to roll
9:00-10:00
Chapter Annual Business Meeting and Awards - learn about what the chapter has been up to during the Covid crisis, hear from board members, get an update on our chapter finances, vote for the 2021 board, and learn who won our Course of the Year award this year!
10:00-11:15
Featured Keynote: Kraig Kann, CEO & Founder, Kann Advisory Group
"Stand Out- Become a Brand New You"


In the second session, Kraig steers the conversation toward building a more attractive personal and professional brand and why it's so critical to today's success. He shares the importance for your course, your members and your customers. He'll also deliver tips on becoming a polished presenter of your message and why standing out as a speaker can help you elevate your business brand and broadcast your business story as never before. Again, this session provides ample opportunity for break-out discussion and questions he'll answer.

11:15-11:30
Mini-Break - stay in the room and connect with other attendees, or visit the virtual vendor booths
11:30-12:30
General Session: Sean Taylor, Founder & CEO, Up to Par Management
"Drive Employee Engagement Drive Property Performance - Answering and Delivering on the Right Questions to Ensure High Employee Engagement Levels to Generate Financial and Service Success."


In this session, learn a proven strategy to increase your employee engagement to deliver for your property. Whether you are the owner of multiple golf courses or a department head, learn a variety of different tactics to increase the overall performance of your teams, managers, and leaders. Understand the direct relationship of employee engagement to profitability. Learn measurement tools that you can use to continuously improve your team's performance. Train the processes and engage your teams to deliver on your property's brand. Learn how to motivate millennials, Gen Y, Gen X, and get them all playing well together despite their radical differences.

12:30-12:45
That's a Wrap -- Closing Comments and Door Prize Awards
This event is a great opportunity for you to meet with fellow owners, operators, vendors, and allied organizations as we turn our attention to the off-season and the upcoming 2021 season. This event is open to owners, operators, general managers, golf professionals, superintendents, marketing staff, social media staff, family, and friends.
Two Days or education and networking. And one low price that covers both days and any of your staff who want to join in.
NEGCOA Member Clubs: $50.00
NON-Member Clubs: $75.00
Vendors: $75.00

You can register three ways:
1. Call our office - 774-430-9031, with a credit card over the phone.
2. Complete the .pdf registration form and either mail back with a check, or email it back with credit card info. Click here for the Registration Form.
3. Visit this link and go through our Eventbrite registration (paid with credit card online). Click this link to be taken to Eventbrite.
This Virtual Meeting is new territory for the Chapter.
We have secured a great keynote and hope that you and your staff will take advantage of this opportunity to join us -- without even leaving your home or office!
See you on the 18th and 19th!