2016 Annual Meeting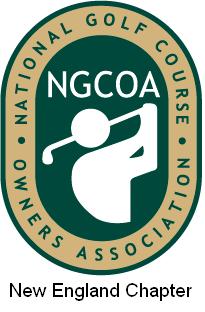 NEGCOA ANNUAL MEETING
Wednesday, November 16, 2016
9:30am – 3:00pm
Tewksbury Country Club, Tewksbury, MA
Host: Marc Ginsburg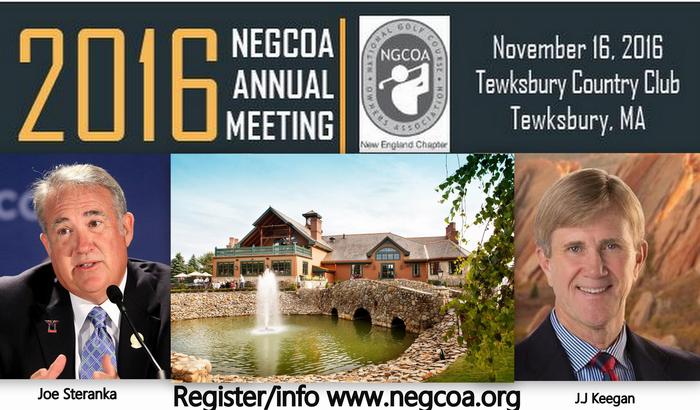 We are very pleased to report that over 70+ clubs will be represented at our NEGCOA meeting next week. If you haven't signed up-- then today is the day to do it. We hope you can join us.
We are so thrilled to have a really great lineup of speakers who will share their insights on the industry and help you take your business to the next level. We will start the day with a brief business meeting where you will hear updates on the chapter, elect a new board of directors, and learn who our Course of the Year winner is for 2017. We will also hear an update from Mike Ketterman, NGCOA Director of Membership.
Following the meeting, we kick off the conference with guest speaker Joe Steranka- Chief Global Strategist for Buffalo Agency/Billy Casper Golf. If you don't know Joe, please see the brief bio below. Our afternoon guest speaker is golf strategist and author, J.J. Keegan. He will demonstrate numerous inexpensive software tools that will accelerate the aggregation of a customer database and effective communications. He plans to utilize data from a number of clubs in the audience to show the Predictive Index for those facilities.
As always there will be time for networking with friends, fellow industry colleagues, vendors, our allied friends and others. This event is open to our owners and any members of their staff who would benefit from these presentations. We also welcome members of our State Associations and vendors.
| | | |
| --- | --- | --- |
| | | Joe Steranka, Chief Global Strategist with Buffalo Brand Invigoration Group and Billy Casper Golf. Joe has been around the block -- working with NBA teams (Washington Bullets/Cleveland Cavaliers) before turning his attention to media relations, reputation management and personal brand development for many well known professional athletes. In 1988, he became the CEO of the PGA, a post that he held for over 24 years. In his current role, Joe focuses on sustainability, marketing to our favorite - Millennials, and global brand development within the golf industry. |
| | | |
| --- | --- | --- |
| | | J.J. Keegan,Chief Strategist/Managing Principal and Author for JJ Keegan+. With six principals averaging 25 years of experience in the golf business, JJ Keegan+ creates astute insights that produce meaningful value to golf courses. With clients worldwide, JJ Keegan+ has developed a unique process that is enhancing the profitability, the value and the investment return of today's golf courses. By judiciously balancing the doctrines of strategic vision, tactical planning and operational accomplishment into a seven-step executable formula, fiscal prosperity is being rekindled. |
Meeting Schedule:
| | | |
| --- | --- | --- |
| 9:30- 10:00am | | Check In/Networking |
| 10:00 - 11:00am | | Business Meeting & Awards |
| 11:00 - 12:00pm | | AM Keynote Speaker - Joe Steranka - Golf: An Industry in Transition: How changes in demographics, consumer behavior, media and technology are creating new opportunities and challenges for golf companies and courses |
| 12:15 - 1:15pm | | Networking Luncheon |
| 1:15 - 2:30pm | | PM Keynote Speaker - J.J. Keegan - The Predictive Index and Superior Marketing with a Low Budget |
| 2:30 - 3:00pm | | Wrap up |
This event is open to Owners, Operators, PGA members, Superintendents, Club Managers, Club Marketing staff, Controllers, Club Board Members, Vendors, Allied Groups, and others....

PGA will receive 2 MSR Continuing Education Points.
GCSAA Superintendents will receive .2 Education Points.
We hope to see you November 16th at Tewksbury Country Club!
Elaine Gebhardt
NEGCOA
300 Arnold Palmer Boulevard
Norton, MA 02766
egebhardt@negcoa.org
www.negcoa.org
774-430-9031
Many thanks to our corporate sponsors:





For Driving Directions use the following address in your GPS:
Tewksbury Country Club, 1880 Main Street, Tewksbury, MA 01876 978-640-0033