2017 NEGCOA Education & Outing
Join us for the 16th Annual NEGCOA Golf Outing....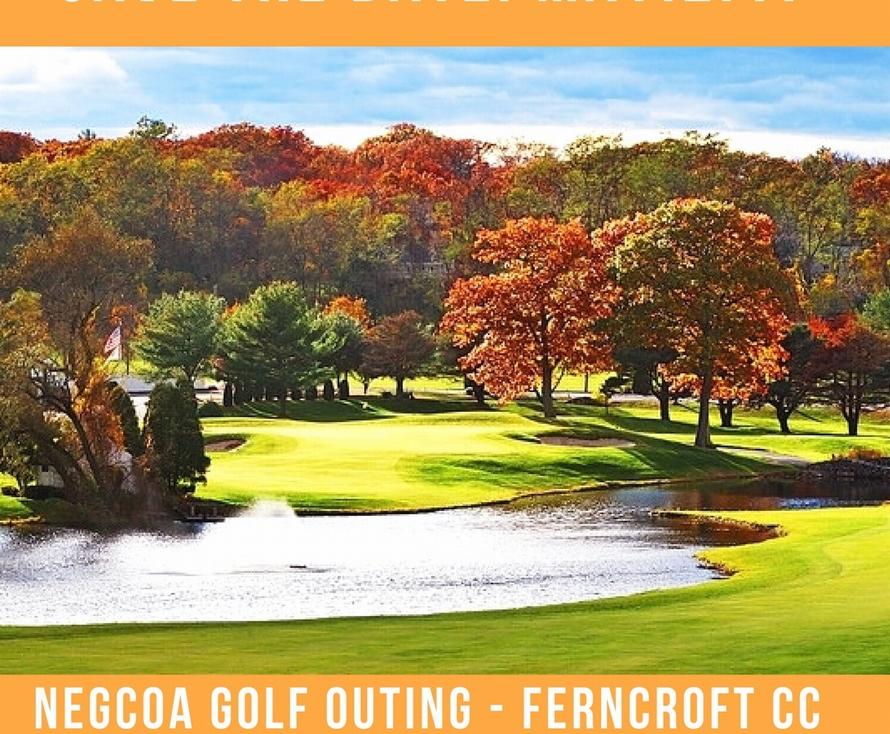 Ferncroft Country Club
10 Village Road, Middleton, MA 01949
978.739.4040

Tuesday, May 2, 2017
Join us for a day of Education, Golf and Networking with fellow owners/operators, vendors, and allied organizations at Ferncroft Country Club. We are planning a great day for you to enjoy at a truly First-Class facility owned and operated by Affinity Management.
This event is more than just a golf outing and you can participate in as much of the day as you please. Ferncroft CC was the first private golf facility in the nation to implement a Zero Food Waste Program. The program is entering its 5th year and we felt others might be curious and want to hear about their experience. So we will begin the day with an educational program, from 10:00 - 11:30am, to learn about Zero Food Waste and other aspects of the Ferncroft Facility. This may be something that you want your F&B manager and Superintendent to sit in on.
The day continues with buffet networking lunch and a chance to see some the Ferncroft facility (newly renovated clubhouse). There will be time to talk with other owners, operators, golf professionals, club managers, vendors, and allied organizations - lots to discuss as we begin the 2017 season.

If you are not a golfer-- then join us for the education and networking lunch. Not ready for Zero Food Waste or need time at the office, then join us for lunch and the golf outing. Or buy into the whole day and take advantage of some Ed, Networking, and Golf!

Who should attend?

Bring members of your staff (GM, Pro, super, chef, marketer, etc),
Your Family
Your Club Champion, League Coordinator,
Local Business Contact or local politician
or Partner up with another owner and staffer for networking/brainstorming
You may want to use the day for team building or perhaps you want to play with participants from other clubs and see how their facility runs! Singles, twosomes, threesomes, and foursomes are all welcome! Members, non-members, and those who want to learn more or connect with some vendors are all welcome!
Schedule of Events:
| | |
| --- | --- |
| 9:30 AM | Check-in and Range Open |
| 10:00 AM - 11:30am | Education Session - Zero Food Waste & Ferncroft Experience |
| 11:30 AM | Buffet Networking Luncheon available |
| 12:30 PM | Shotgun Start - Bramble format |
| 5:00 PM | Cocktail Reception, Hearty Hors d'Oeuvres, Awards and Raffle Winners |
| Prizes: | Team prizes, Hit the Green Contest, Long Drive, Closest to the Pin, Raffles, contest for tickets and much more. |

Early registration savings in effect until April 17. Player names can be filled in later.

Click here for Clubs & Allied Organizations registration form
Here's a twist - you can choose to break up your foursome and network with others while you play. Yes, it is fun to play together, but splitting up may result in bringing home some great new ideas. It is your choice - just indicate on the registration form if you want to remain together or if you want to use the time on the golf course to learn from others.
Vendor Registration/Sponsor Opportunities:
To all of our vendors, there are some great ways for you to be involved in this event. You may participate at various levels of sponsorship or simply play. We encourage you to bring staff from a member club or even a non-member club to the event. To learn more click on the link below.
Click here for a Vendor registration/sponsorship form

Payment Options: For your convenience, you may download a registration form here. Player names can be filled in at a later date, but register your group now to take advantage of early bird savings and to avoid being shut out.

Special thanks to our hosts Damon DeVito and David Swales from Affinity Management and their Ferncroft staff for their gracious support.
Directions to Ferncroft Country Club
For further information contact Elaine Gebhardt at 774-430-9031 or egebhardt@negcoa.org
WE LOOK FORWARD TO SEEING YOU AT FERNCROFT CC!!